Skip To Content
Free shipping on U.S. orders over $35
FREE GIFT WITH ORDERS OVER $45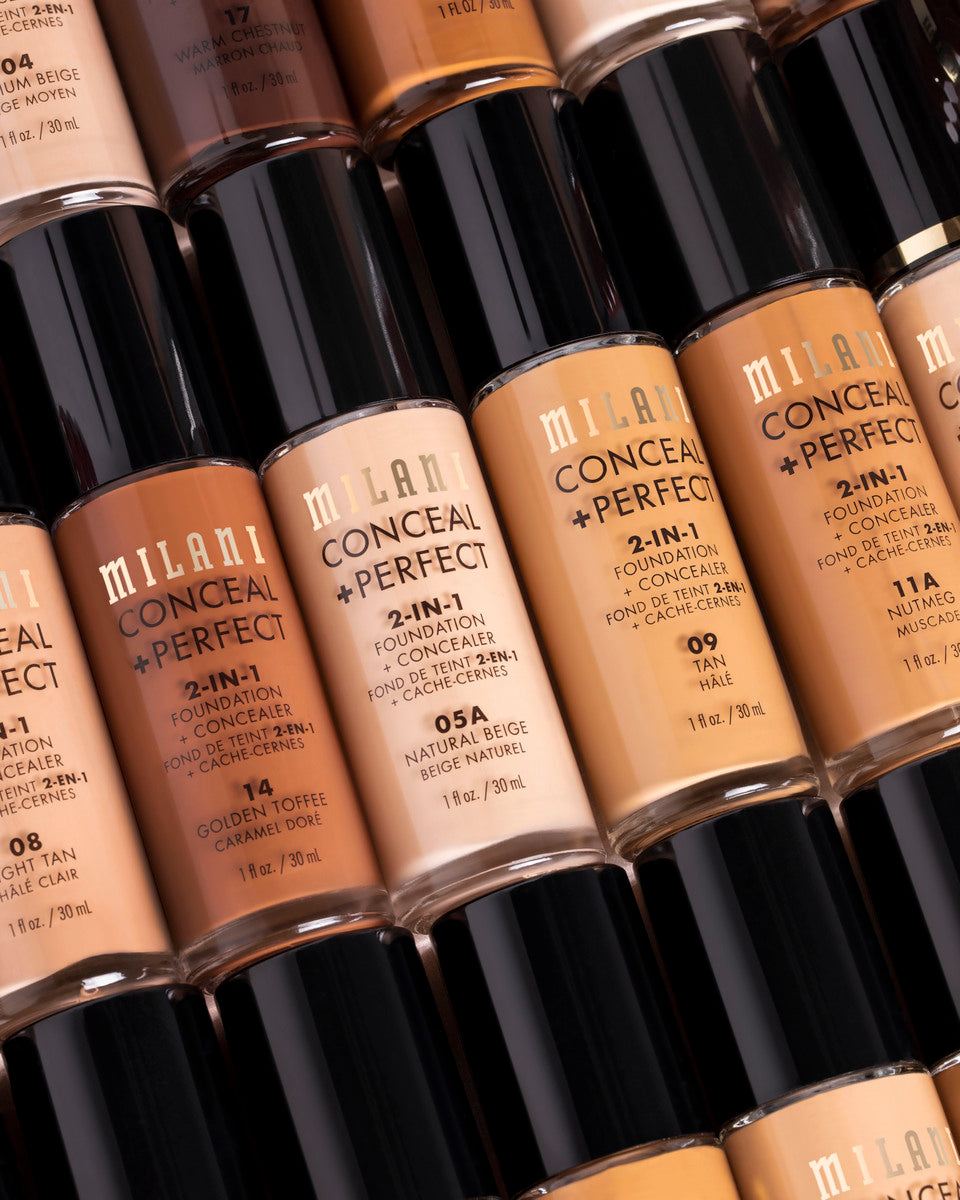 Our 5 Most Loved Products
Adding some glamour to your routine has always been a part of what makeup is all about. Being able to express yourself, subtly or otherwise, is an important part of showcasing your confidence and personal aesthetic. A blush can brighten up your cheeks and give you a livelier look. If it's all about embodying the essence of cool and collected, a darker or earthier eye shadow palette can help you nail the vibe you crave. The best part? Makeup is a year-round opportunity to learn more about yourself, even if you're planning to just relax inside all day.
When it comes to our most loved products, we chose to stray away from calling any of them the best since every face is different. The range of complexions and skin textures out there means everyone has their favorite products that work best for them, but we're confident you'll fall in love with these five options just as hard as we did.
Conceal + Perfect 2-In-1 Foundation and Concealer
A strong base lays the groundwork for any great makeup look. The Conceal + Perfect 2-In-1 Foundation + Concealer has you covered, literally. This time-saving multitasker offers medium-to-full coverage, allowing you to tailor your base to perfect what you want, how you want. It's one of the most convenient makeup products if you're on the go, ticking the boxes for a more even complexion and full-coverage concealment wherever you choose. This oil-free formula has something for everyone, with a long-wearing, natural matte finish in 45 shades. Work this product onto prepped skin with a beauty sponge, foundation brush or your fingers in light layers to quickly combat imperfections.
Baked Blush
The Baked Blush has maintained its holy grail status in the hearts of makeup lovers for a reason. This rich and buildable formula comes in 11 shades in a mix of shimmery and satin finishes that suit all skin tones. You're sure to find a new favorite (or 11) from the lineup. This long-lasting, foolproof formula is the cherry on top of any makeup look. Lightly dust across the skin for a soft natural warmth or build up for an eye-catching and radiant pop of color. This beloved line continues to captivate makeup lovers as one of the best makeup products and is an absolute must-have in your kit. 
Highly Rated Anti-Gravity Mascara
True to its name, the Highly Rated Anti-Gravity Mascara has become a go-to mascara for those looking for a lifted lash with tons of volume and length to boot. This intensely black mascara is formulated with castor oil to nourish your lashes without unwanted smudging. The brush is hourglass in shape and has a super-flexible molded tip that allows you to easily coat each lash. Applying just one coat from root to tip will quickly provide high-impact lashes for up to 24 hours. The formula doesn't clump, so if you want to pump up the volume and length, feel free to layer away.
Make It Last Setting Spray + Prime + Correct + Set
The key to a seamless, long-lasting makeup is all about how you prep and set your look. The Make It Last Setting Spray Prime + Correct + Set brings it all together; it's a great multitasking product that has your back for flawless makeup without the worry of creasing or smudging throughout the day. The mister on the bottle is ultra-fine so you can apply it after makeup, knowing that it won't disrupt your look. Shake well and mist over your skin before applying makeup to prep and provide a barrier of protection. Mist again at the end of your routine to lock in your look for up to 16 hours of headache-free wear. 
Color Fetish Matte Lipstick
Add the perfect finishing touch to your look with one of the 14 shades in the Color Fetish Matte Lipstick range. You can find anything from a bright peachy nude to a perfect red to a deep and moody black. Whether you're going for one of the more soft and subtle colors or playing things up with a color that's punchy and bold, the rich pigments in the lineup suit all skin tones. The formula is infused with hyaluronic acid to keep your lips moisturized while wearing this ultra-creamy, velvety matte-finish lipstick. Softly tap onto the lips and pat out with your finger for a soft, diffused lip look, or swipe across the lips to get the benefit of the full pigment. 
GET 20% OFF YOUR FIRST PURCHASE WHEN YOU SIGN UP FOR OUR EMAIL UPDATES!
BE THE FIRST TO KNOW ABOUT NEW LAUNCHES, PROMOTIONS, AND MORE!