Skip To Content
Free shipping on U.S. orders over $35
FREE GIFT WITH ORDERS OVER $45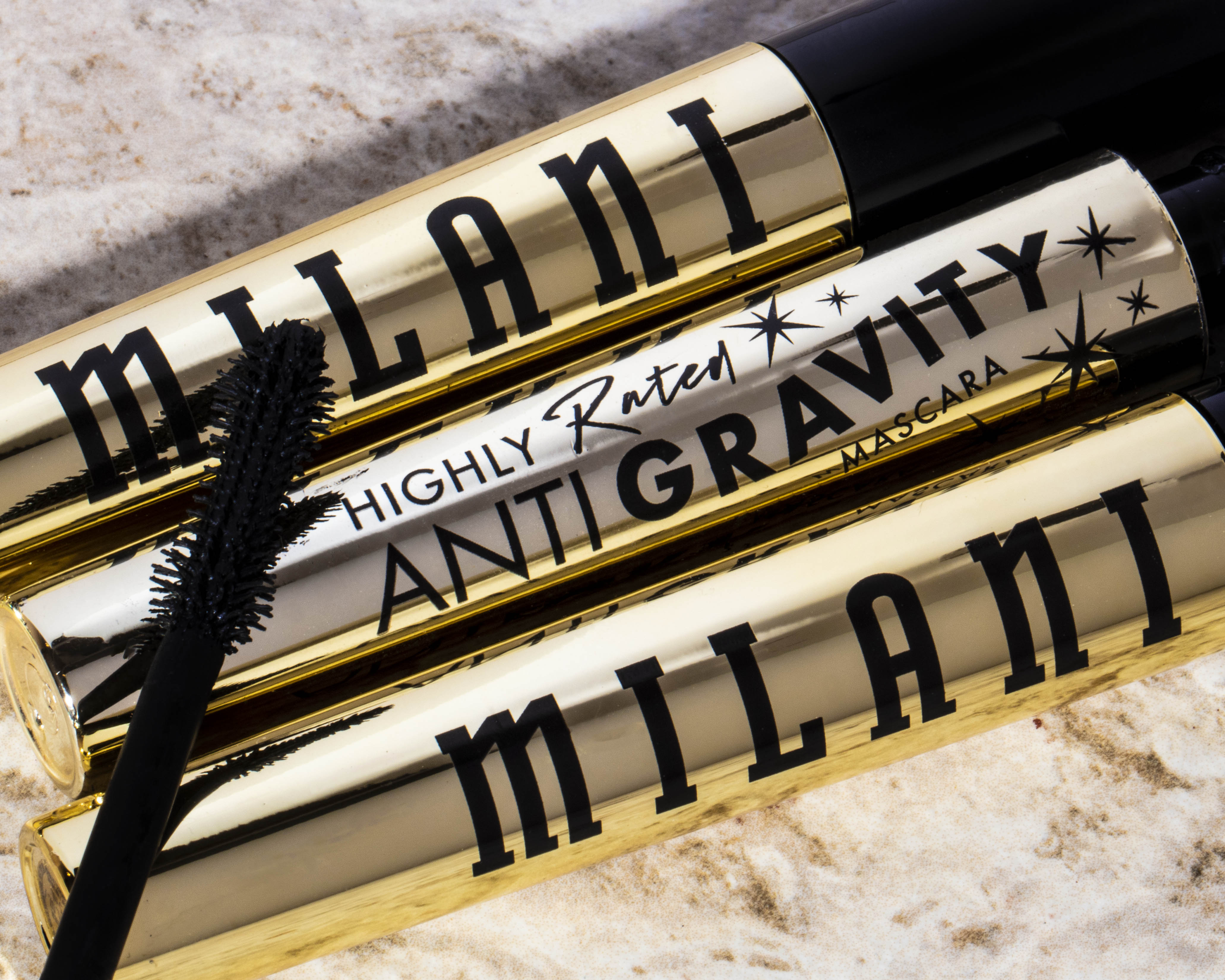 Our Top Mascaras and Why We Love Them
Mascaras are an essential part of any beauty routine. It can volumize, define and lengthen for a bright-eyed look, whether you're wearing full makeup or none at all. Milani Cosmetics has multiple mascaras to help you achieve your lash goals.
Find the best mascara for you with our guide. Milani Cosmetics Highly Rated Anti-Gravity Mascara is one product you'll find on our list. In addition to the full size, it comes in a travel size that tucks into your bag for on-the-go glam.
Here are our top-rated mascara picks and why we love them:
Highly-Rated Anti-Gravity Mascara
Lift your lashes to stellar heights with Highly Rated Anti-Gravity Mascara. It's our top-selling mascara for length and volume. This intense black mascara has nutrient-rich castor oil and fruit waxes to support healthy lashes and wears for up to 24 hours.
We also love our Highly Rated Anti-Gravity Mascara because of its innovative applicator. The brush is molded into an hourglass shape to saturate every lash without clumps or smudges. In consumer studies, 93% reported instant lift and enhanced volume, while 90% saw longer lashes immediately.
This ultra-black vegan mascara is made in Italy. It's also cruelty-free, which means it's never tested on animals, nor does it contain any animal products.
One Way to Wear It: Apply Milani Cosmetics Highly Rated Anti-Gravity Mascara after creating a sharp winged look with Stay Put Infinite Liner. You can add a pop of color with shadow on the lid before applying liner or use a neutral primer if desired.
The Waterproof One Mascara
Another long-wearing mascara is The Waterproof One Mascara. This ultra-black formula has waterproof polymers that lengthen and volumize and won't smudge or flake.
The Waterproof One is one of our best mascaras for length and volume, with up to 24 hours of wear. Swipe it on for plumper, longer lashes that stay that way through rainy days, sweat sessions and the latest binge-worthy drama or box-office tearjerker.
There's no perfume or alcohol in this waterproof mascara, which is made in the USA. It's also paraben-free and has no D5 or TEA, plus it's cruelty-free and vegan.
One Way to Wear It: Create a matte water-resistant eyeshadow look with Milani's Ungilded Most Loved Mattes palette locked in place with the Make It Last setting spray, then follow with mascara.
Highly-Rated Mascara
We chose Highly Rated Mascara for our best-mascara list because of its multiple lash benefits. According to 94% of survey respondents, this formula doubles the thickness of lashes, and 91% reported bold volume, curl and lift with a single application.
In each tube is the Highly Rated Elite mascara brush to separate and saturate. It lifts and curls while depositing the luxe plant-based formula from root to tip on every lash. This mascara conditions while amplifying for longer lashes with loads of volume and comes in full and travel sizes.
This Milani Cosmetics mascara is also made in the USA without any animal testing or animal products. Like The Waterproof One, Highly Rated mascara is free from parabens, perfumes, alcohol, D5 and TEA.
One Way to Wear It: Milani Cosmetics Most Wanted Eyeshadow Palette and Supreme Kohl Kajal Liner can be smudged and blended for a smoky look. Top with Highly Rated mascara for soft glam.
Highly-Rated Lash Extension Tubing Mascara
If you love the look of false lashes, the best long lash mascara for you might be our Highly Rated Lash Extension Tubing Mascara. It's inspired by Japanese lash-extending technology and delivers dramatically lifted and lengthened lashes without a salon visit.
Tube-shaped polymers surround every lash to mimic the look of professional lash extensions. The formula is enriched with nourishing castor seed oil and shea butter to condition while it lengthens. It stays on for up to 16 hours and won't clump, flake or smudge. Plus, because it's a tubing mascara, it's fast and easy to remove with just warm water.
One Way to Wear It: Create a bold, modern look in a hurry with Highly Rated Lash Extension Tubing Mascara and Gilded Flora Eyeshadow Sticks. These shadow sticks can be swiped on in seconds and smudged with your finger for effortless sophistication.
With so many Milani Cosmetics mascaras from which to choose, the best mascara for you might vary depending on the occasion. Waterproof formulas are suitable for wet weather, while tubing mascaras deliver that ultra-glam look. Experiment with layering mascaras for even more dramatic volume or swipe a single coat for gentle definition.
GET 20% OFF YOUR FIRST PURCHASE WHEN YOU SIGN UP FOR OUR EMAIL UPDATES!
BE THE FIRST TO KNOW ABOUT NEW LAUNCHES, PROMOTIONS, AND MORE!