Skip To Content
Free shipping on U.S. orders over $35
FREE GIFT WITH ORDERS OVER $45
Make It Last Matte - Matte Finish Charcoal Setting Spray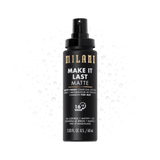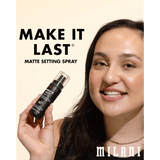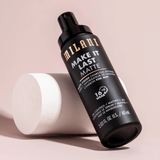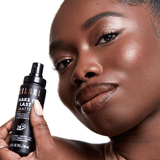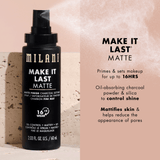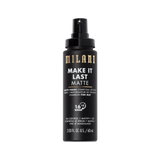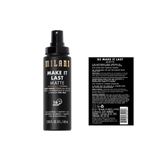 Make your face a no-oil zone! Our Make It Last Matte - Matte Finish Charcoal Setting Spray is a real look locker, and it has powerful ingredients to supercharge your skincare routine. After you've made your makeup magnetic, freeze your face for hours with a glam matte finish. This brilliant, o... More
---
Why you'll love it
Make your face a no-oil zone! Our Make It Last Matte - Matte Finish Charcoal Setting Spray is a real look locker, and it has powerful ingredients to supercharge your skincare routine. After you've made your makeup magnetic, freeze your face for hours with a glam matte finish. This brilliant, oil absorbing setting spray features micro-fine charcoal powder and silica to set makeup and reduce the appearance of pores. This is the ultimate setting spray for oily skin, and it will give your makeup up to 16 hours of just-applied vibe. Contains Evermat and Honey Matte to make your skin look virtually pore-less with a bright, powdery finish. This mattifying formula matte finish spray is like a setting spray and blotting paper rolled into one. Make It Last Matte - Matte Finish Charcoal Setting Spray is a style setter for striking statements.
What's inside it
This product – and every other Milani product – is never tested on animals. We don't allow others to test on our behalf, either. Our products are 100% cruelty free.
Full Ingredient List
What's inside it
Water (Aqua), Alcohol Denatured, Silica, Pentylene Glycol, Phenoxyethanol, Calcium Chloride, Chondrus Crispus (Carrageenan) Extract, Lithium Magnesium Sodium Silicate, Saccharum Officinarum (Sugar Cane) Extract, Honey, Coconut Acid, PEG-60 Hydrogenated Castor Oil, Butylene Glycol, Ethylhexylglycerin, Fragrance (Parfum), Charcoal Powder, Disodium EDTA, Lactobacillus Ferment, Enantia Chlorantha Bark Extract, Ceteth-25, Oleth-10, Citrus Grandis (Grapefruit) Seed Extract, Oleanolic Acid, Xanthan Gum.
How to apply it
After you have applied your makeup, shake our matte charcoal face spray and spray an ultra-fine mist over your entire face. Be sure to hold the bottle at least 10 inches away. Make it Last is made for the long-haul -- our matte setting spray can keep your makeup look locked for up to 16 hours. Reapply as needed to continually absorb excess oil for bright, fresh skin. For looks that require extra hold, apply a thin layer of foundation, use charcoal setting spray, then apply another layer of foundation on top to lock the entire look in. Do not spray directly into eyes.
---