Skip To Content
Free shipping on U.S. orders over $35
FREE GIFT WITH ORDERS OVER $45
Get 20% off when you sign up for SMS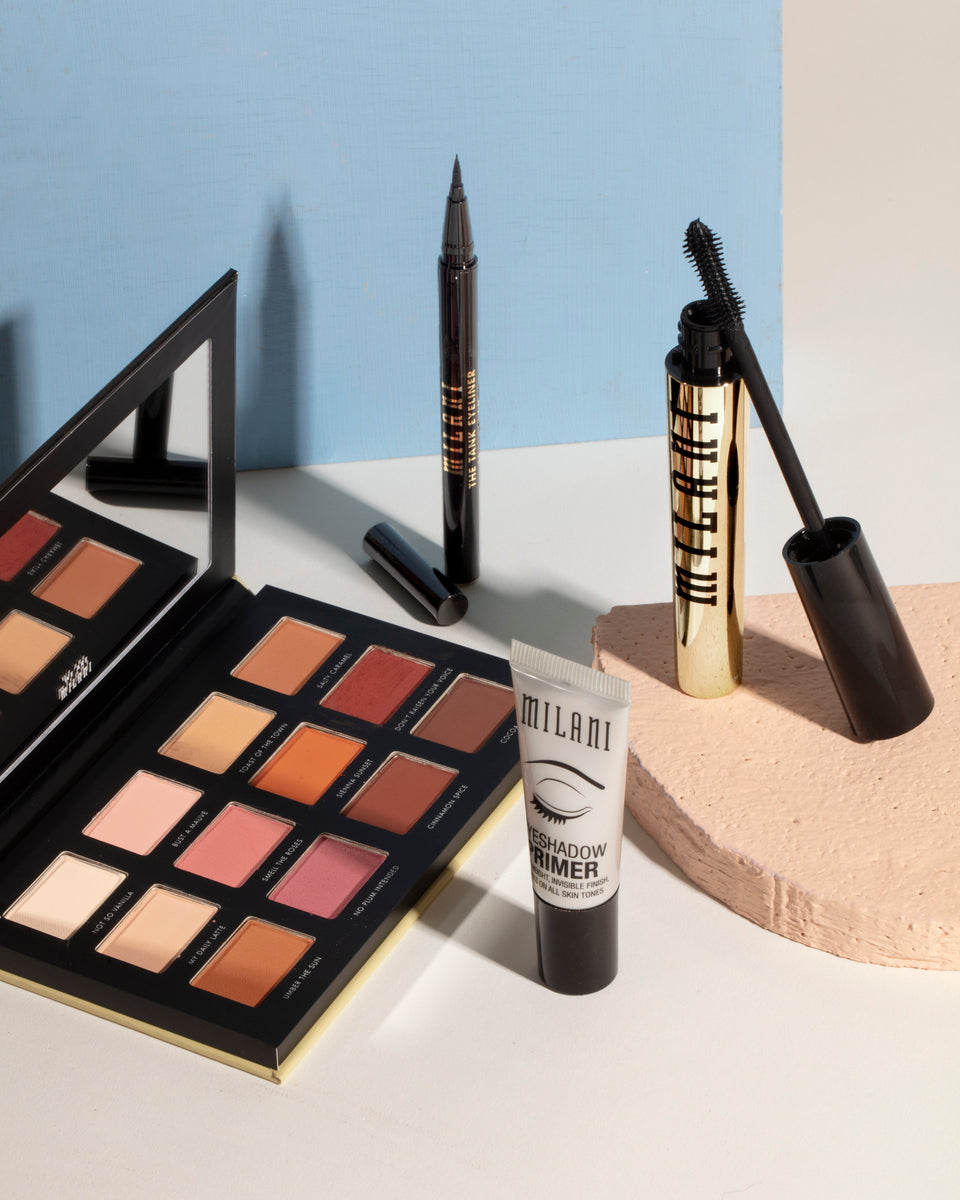 Simplify your makeup routine for a stunning look in mere minutes. We've put together a step-by-step 5 minute makeup tutorial that you can adapt to fit your beauty preferences.
These tips aren't just for makeup minimalists, either. Even if you love the look of a full face, a simple makeup routine can be all you need to glam it up in a hurry. This routine is perfect for days when you're rushing out the door or want a polished look that doesn't take long to create.
Here are easy steps to a quick makeup routine that anyone can do. Included are product recommendations so you know what to use for each step:
Skin Prep and Foundation
The first step to any simple makeup routine is preparing the skin. This is actually a four-step process, but it doesn't take long.
Start with your preferred cleanser to ensure you're working with a clean canvas. Milani Cosmetics Glow Gel Cleanser washes away dirt, oil and makeup to gently cleanse all skin types.
After washing your face, hydrate with moisturizer. Aqua Bloom Hydrate + Replenish Water Cream is one option. It hydrates and plumps for up to 24 hours and absorbs quickly so there's no waiting.
Primer comes next and helps create a smooth surface for makeup application. Milani Cosmetics has multiple primer formulas, but we recommend a multitasking spray such as Make It Last Prime + Correct + Set for the fastest application.
After primer, apply foundation for a flawless-looking base layer that's ready for color cosmetics. Milani Conceal + Perfect Foundation + Concealer is a time-saving multitasker that's buildable for medium-to-full coverage.
Brows Shape
The next step to make your makeup look simple is defined brows. Properly filled and shaped brows can take a minimal makeup look to the next level and provide a frame for the face.
Milani Cosmetics' brow products come in a variety of formulas. Weekend Brow Eyebrow Tint is your go-to for creating a microblade look with the sharpest arches. Another long-lasting product is the Stay Put® Brow Pomade Pencil, which offers the convenient application of a pencil with the soft definition of a pomade.
Shaping your brows for a 5 minute makeup routine is simple. Use your chosen brow product to fill in sparse spots and add definition to edges and arches. Some Milani Cosmetics brow pencils have spoolies on the end for brushing brows into place, such as the pomade pencil and Easy Brow Pencil.
Eyes, Cheeks and Lips
After defining your brows, you can focus on the rest of your eye look. For a quick makeup routine, it's best to stick with a simple eyeshadow look involving just one or two colors. Milani Cosmetics Eyeshadow Duo has two coordinated colors you can apply to the lid and crease for soft glam in a hurry.
Or speed things up even more by lining your eyes with a shadow stick and smudging gently with your fingertips or makeup blender. Gilded Flora Eyeshadow Sticks come in floral-inspired colors and have a cream-shimmer texture that glides on for a smooth application.
Skip the eyeliner to save time or achieve a quick smoky look that lasts with Stay Put® Eyeliner smudged close to the lash line. The next step to a quick-yet-polished face is mascara to amplify and define the lashes.  
Highly Rated Anti-Gravity Mascara one of Milani Cosmetic's best-sellers. The ultra-black formula delivers show stopping volume and length with up to 24 hours of staying power. Or swipe on Highly Rated Lash Extensions Mascara for a false-lashes look without the falsies, glue or salon visit.
Create a sculpted look quickly by sweeping Conceal + Perfect Liquid Contour around the facial perimeter and under your cheekbones. Make your contour stand out by finishing with a highlighter from the same collection on the tops of cheekbones and the tip of the nose. The sponge applicator on these products allows for fast, precise application.
Next, start your lip look by defining your lips with a lip liner, which you can also use to fill in the lips. Milani's Easyliner Mechanical Lip Liner Pencil doesn't need sharpening and delivers saturated color without any smudges.
Finish With Cheeks, Lips and Setting Spray
There are a few more steps to completing your five-minute makeup routine — blush, gloss and setting spray. Although these three steps can be completed in under a minute, they're integral to pulling your makeup look together.
Blush comes in powder, cream, liquid and stick formulas. For the fastest application, swipe and blend Supercharged Cheek + Lip Multistick when doing a simple makeup routine. If you prefer powder blush over a gel-stick or cream formula, use a fluffy brush to swirl it onto the apples of your cheeks for a lit-from-within glow in seconds.
Next, top the lipliner you applied earlier with a lip gloss for a lustrous finish. Try Highly Rated Diamond Lip Gloss for a high-shine, diamond-inspired finish. Or you can finish your lip look with a fruit-flavored nourishing balm such as Fruit Fetish Lip Balm for gloss without sparkle.
Lock your look in place with a light mist of setting spray. Milani Cosmetics has multiple varieties, including a Make It Last setting spray infused with SPF 30 and another with a dewy finish. Make It Last Flora Scented Setting Spray adds the soothing element of scent to setting your makeup.
Modify these steps to create a simple, quick makeup routine that works for you. With practice, you can master your five-minute makeup look like a pro.
GET 20% OFF YOUR FIRST PURCHASE WHEN YOU SIGN UP FOR OUR EMAIL UPDATES!
BE THE FIRST TO KNOW ABOUT NEW LAUNCHES, PROMOTIONS, AND MORE!