Skip To Content
Free shipping on U.S. orders over $35
FREE GIFT WITH ORDERS OVER $45
Get 20% off when you sign up for SMS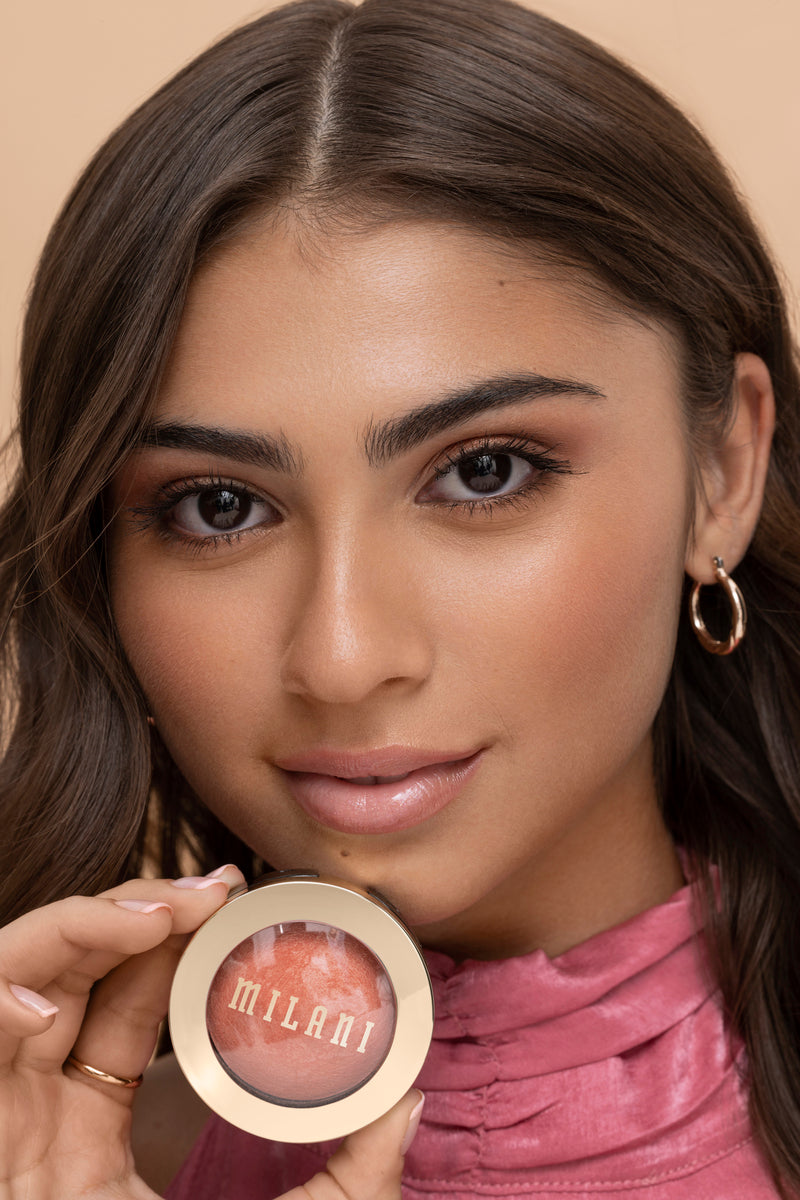 Cream vs. Powder Blush: What's the Difference?
From a soft, rosy dusting to a vibrant pop of color on the cheeks, blush is one of the most effective ways to make your face glow and radiate. Cream and powder blushes are two of the most popular formulas, but they're different in terms of intensity, translucence, texture and application .
Cream blush has a smooth, rich consistency and is typically applied with fingers, a makeup sponge or a dense makeup brush. Powder blush has a dry formula and is sold in either a loose or pressed form, and most users opt for a fluffy brush for application.
Whether you prefer a natural blush hue or a runway-worthy statement look, this guide can help you settle the cream blush vs. powder blush debate and determine the ideal faux flush for you.
H2: Powder Blush Pros
One of the main advantages of powder blush is its versatility. Powder blush typically comes in a wide array of silky shades and varies in sheerness, so you can achieve many different looks with a single product. You can apply a light dusting if you're new to makeup or prefer a natural look, or you can build, layer and mix powder blushes to create a more dramatic and creative effect.
Many professionals tend to use powder blush for its staying power, which can last well past initial application and throughout an entire day at the office or at late-night events. Powder blushes have a thicker formula than other products and can absorb excess oil, so they create a matte finish. This effect is especially beneficial for individuals with oily skin types, as they can use the product to counteract excess moisture and shine and achieve a polished final look.
Some powders also come with subtle shimmering ingredients to help create a dewy complexion and natural flush, and its dry consistency allows you to easily apply it over other beauty products.
Powder Blush Cons
Although powder blush allows you to achieve many different polished looks, this dry formulation does have several shortcomings. For instance, powder products tend to be more translucent and carry less pigmentation than cream blushes. While it's possible to create bolder and sharper makeup looks with powder, doing so requires precise, patient application as you meticulously build the product with careful techniques.
Powder blush may not suit individuals who have dry or heavily textured skin. The dry powder consistency can cling to these spots on the skin, leading to the appearance of uneven skin texture. In some cases, powder blush can irritate dry skin and cause clogged pores, acne breakouts and other skin issues.
Building dense layers of blush on top of other products or textured skin can also lead to a caked appearance, which isn't ideal for a day spent at the beach or a morning at the gym.
Lastly, every powder makeup user has likely experienced the tragedy of a broken blush product. Powders that come in pressed form are delicate and prone to breaking at the bottom of makeup bags, creating a powdery mess of pretty hues.
Cream Blush Pros
If you're looking for a natural, glowing appearance, a silky cream blush may be your preferred product. With a lightweight consistency and moisture-based formula, cream blush can melt into your skin to enhance its appearance and create a dewy, luminous look.
Cream blush is also easy to apply, and most people simply do so with their fingers or a damp makeup sponge. Given that cream blushes pack a lot of pigmentation into a small amount of formula, you typically only need a dab of your favorite blush colors to get a radiant and natural flush on your cheeks.
Cream blush products tend to come in small pots, so you can touch up your blush while on the go. If you accidentally apply too much, just use a damp sponge or stippling brush to remove excess product. Unlike powder blushes, you won't have to worry about making a powdery mess in your makeup bag.
Many formulas even contain ingredients found in skin care products and look great on bare or lightly moisturized skin. For individuals with dry, flaky or textured skin, that means you can get a gorgeous dewy flush without applying full coverage makeup or irritating your skin.
Cream Blush Cons
Despite coming fairly close to perfect, cream blushes have a few potential disadvantages. With more intense pigmentation than powder blush, cream blush can easily look bolder than you want if you're not careful with rationing the product. Although you can dab and blend excess product if you do overapply it, this is harder to do once the formula has already set and dried into your skin.
Cream blush also doesn't always provide the same staying power as its powdery counterpart. Since it's moisture-based, cream blush more easily smudges and melts from your skin over several hours and may require more regular touch ups.
Since a moisture-based cream formula doesn't have the same oil-absorbing qualities as powder, it isn't always recommended for individuals with oilier skin types. However, this effect can sometimes be counteracted by either layering a primer beneath or a translucent powder on top of the cream blush.
Most people apply cream blush with their fingers, but this can increase the risk of transferring bacteria and dirt to your skin and causing clogged pores and breakouts. Clean your hands before application and thoroughly cleanse your skin when you remove your makeup to reduce potential breakouts.
What's the Best Blush
It can be difficult to decide between blush cream vs. powder, but almost any formula is capable of delivering a flattering and radiant appearance. Some people even opt to mix-and-match and layer powder blush over cream blush to create bold, long-lasting looks. However, consider that cream and powder formulas typically apply and look best when layered over other products with similar consistencies.
Whether you prefer a naturally luminous flush or a polished look, cream and powder blushes are both popular options. Ultimately, determining the best blush depends on your individual skin type, preferences and the unique look that you're trying to achieve.
GET 20% OFF YOUR FIRST PURCHASE WHEN YOU SIGN UP FOR OUR EMAIL UPDATES!
BE THE FIRST TO KNOW ABOUT NEW LAUNCHES, PROMOTIONS, AND MORE!