Skip To Content
Free shipping on U.S. orders over $35
FREE GIFT WITH ORDERS OVER $45
Get 20% off when you sign up for SMS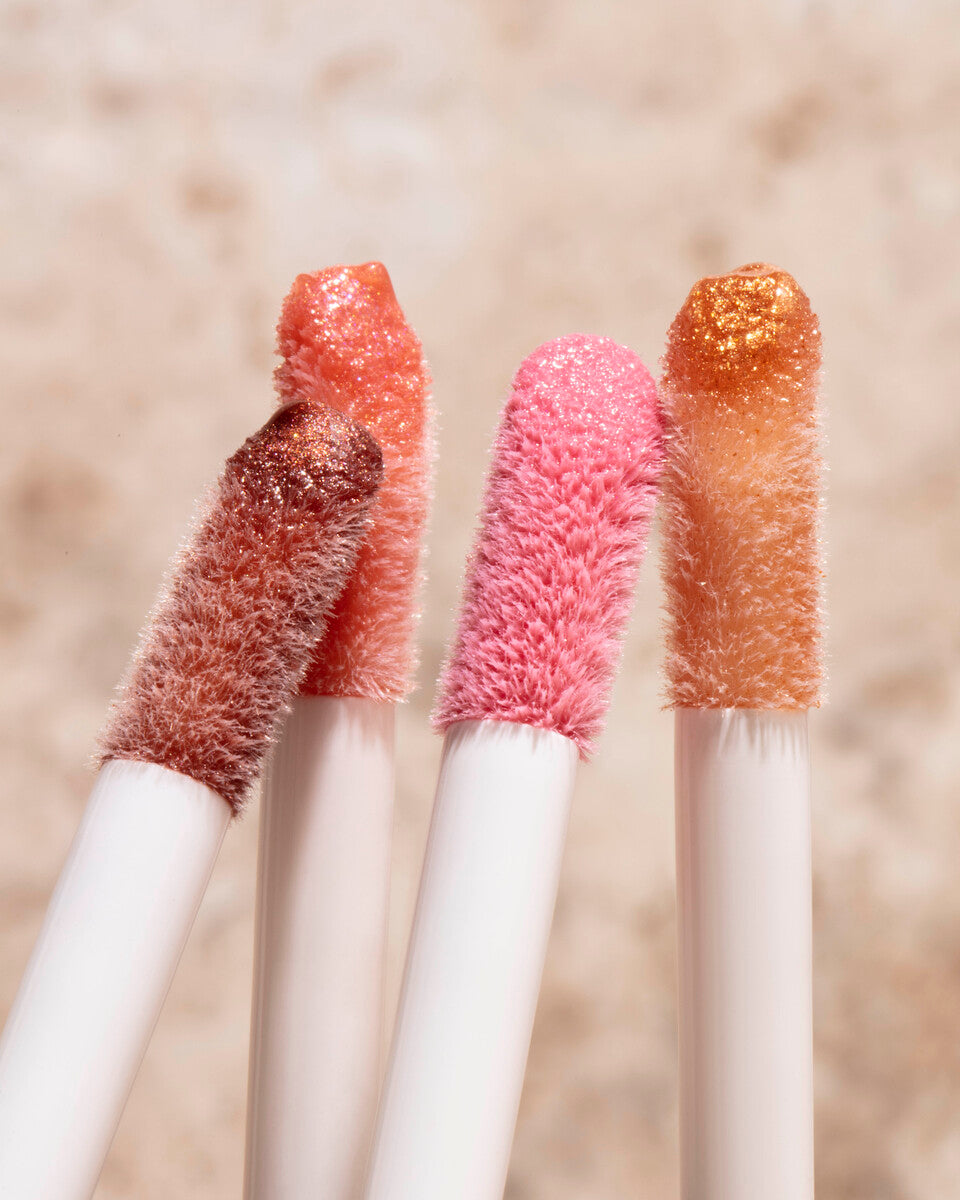 Does Lip Plumping Balm Really Work?
There's a noticeable trend toward more luscious, pouting lips, à la Angelina Jolie and Kylie Jenner. And why not? For many people, plumper lips signal vitality and sensuality, giving the wearer a boost of confidence and allowing you to alter your contours without committing to a permanent change.
There's an array of techniques to get the look, including surgery, injection fillers, and lip scrubs, all of which come with their own pros and cons. But there is a natural, temporary and more affordable way of getting that fuller look, too.
Lip plumping balms temporarily enhance the lips, giving you more control over different looks than a long-term option, like injection fillers. But is a lip plumping balm really a miracle solution? And does it produce real results? Read on to learn how plumpers work, how long they last and how to pick the right one for you.
How Do Lip Plumpers Work?
There are quite a few expert tips to help lips look fuller. Whether it's applying gloss, using lip liner or strategically applying two different tones to suggest depth, these approaches only give the illusion of volume without really making the lips fuller. Lip plumpers temporarily make lips more generous, only requiring reapplication when you feel it's time for a touch up.
How do lip plumpers work? They contain ingredients that fool the brain into thinking your lips need attention, so it sends blood to the area, causing slight swelling. Blood fills the lips and — presto! — they're beautifully plump.
The balm causes a tingling sensation on the lips, but the irritation doesn't last long — usually no more than 5-10 minutes. There are milder products that don't cause tingling, but these only moisturize the skin, so they aren't as effective as the swelling lip plumpers produce.
Lip plumpers use a variety of ingredients, so read through ingredients and experiment to find the formula that's best for you. People with sensitive or dry skin should also make sure there aren't ingredients that they've reacted to in the past. Dermatologists recommend applying a small amount of new cosmetics to your forearm first and waiting for at least an hour to confirm suitability.
How Long Do Lip Plumpers Last?
The best lip plumpers give you the freedom to get the look you want when you want it. Lip filler injections last for six months to a year, so once the doctor has done their thing, you have to wait for the effect to wear off. Although lip plumpers don't last as long, they're more affordable and, apart from some initial tingling, completely comfortable to use.
So, how long do lip plumpers work? The right lip plumping gloss can last 2-3 hours, while those that draw moisture to the lips can last much longer.
A 2016 study by the International Journal of Cosmetic Science tested 60 female volunteers with a lip plumper made with natural ingredients. It found significant increases in volume within 15 minutes of application, keeping the new shape without change until the 30th minute. The lips then slowly returned to their original shape, taking up to 2 hours with some volunteers.
Lip fillers work — and they're tempting if they're not too costly — but lip plumpers are inexpensive and give you more control. Even women who've had lip filler injections still use lip plumpers to add more volume when trying for a certain look.
How To Pick a Lip Plumper
Trial and error is usually the best way to find the right lip plumper. If you've ever wondered, "Do lip plumpers work?" these three gems from Milani will show you they do, each offering a subtly different experience and look. They're the best lip plumpers around.
Milani's Keep It Full Maxx Balmshell Lip Pumping Balm intensely hydrates lips to maximize plumping, producing a full, sensuous pout rivaling lip filler. Swipe once with the signature oversized doe-foot applicator to get the right amount of formula and beautiful lips appear within 10 minutes.
The Keep It Full Nourishing Lip Plumper is Milani's top-rated lip plumping gloss. It comes in delicious colors that naturally enhance the lips, while its perfect blend of ingredients volumizes and adds shine. The non-sticky, creamy formula delivers a subtle cooling sensation.
Keep It Full Maxx Lip Plumper adds bold colors and fabulous shine. This beauty product makes good use of Milani's Triple X technology, moisturizing the lips and creating volume while gently tingling the skin.
Final Steps + Bonus Hack
Lips swelled by lip plumper look great, but they look even better if the rest of your face is selfie-ready, too. Here are some final steps to get that simple but complete look.
The first step is to create a base to deal with redness, skin imperfections and under-eye circles. Milani's Conceal + Perfect 2-in-1 Foundation and Concealer uses a waterproof and sweatproof oil-free formula to ensure the face is always picture-ready. There are 45 shades to choose from, providing an all-day natural matte finish suitable for any skin type and tone.
The second and final step to complete the look is to apply mascara. Milani's Highly Rated Anti-Gravity Mascara instantly volumizes, lengthens and lifts lashes for up to 24 hours. Infused with castor oil and fruit-based waxes, it doesn't smudge or clump, and the hour-glass-shaped brush catches and paints every lash evenly.
Bonus Hack
Hydration is the key, because dry lips shrink, even with lip plumper applied, so drinking plenty of water is a must. It's also important to exfoliate before applying your lip plumper because flaky lips catch the light and draw the wrong kind of attention.
GET 20% OFF YOUR FIRST PURCHASE WHEN YOU SIGN UP FOR OUR EMAIL UPDATES!
BE THE FIRST TO KNOW ABOUT NEW LAUNCHES, PROMOTIONS, AND MORE!