Skip To Content
Free shipping on U.S. orders over $35
FREE GIFT WITH ORDERS OVER $45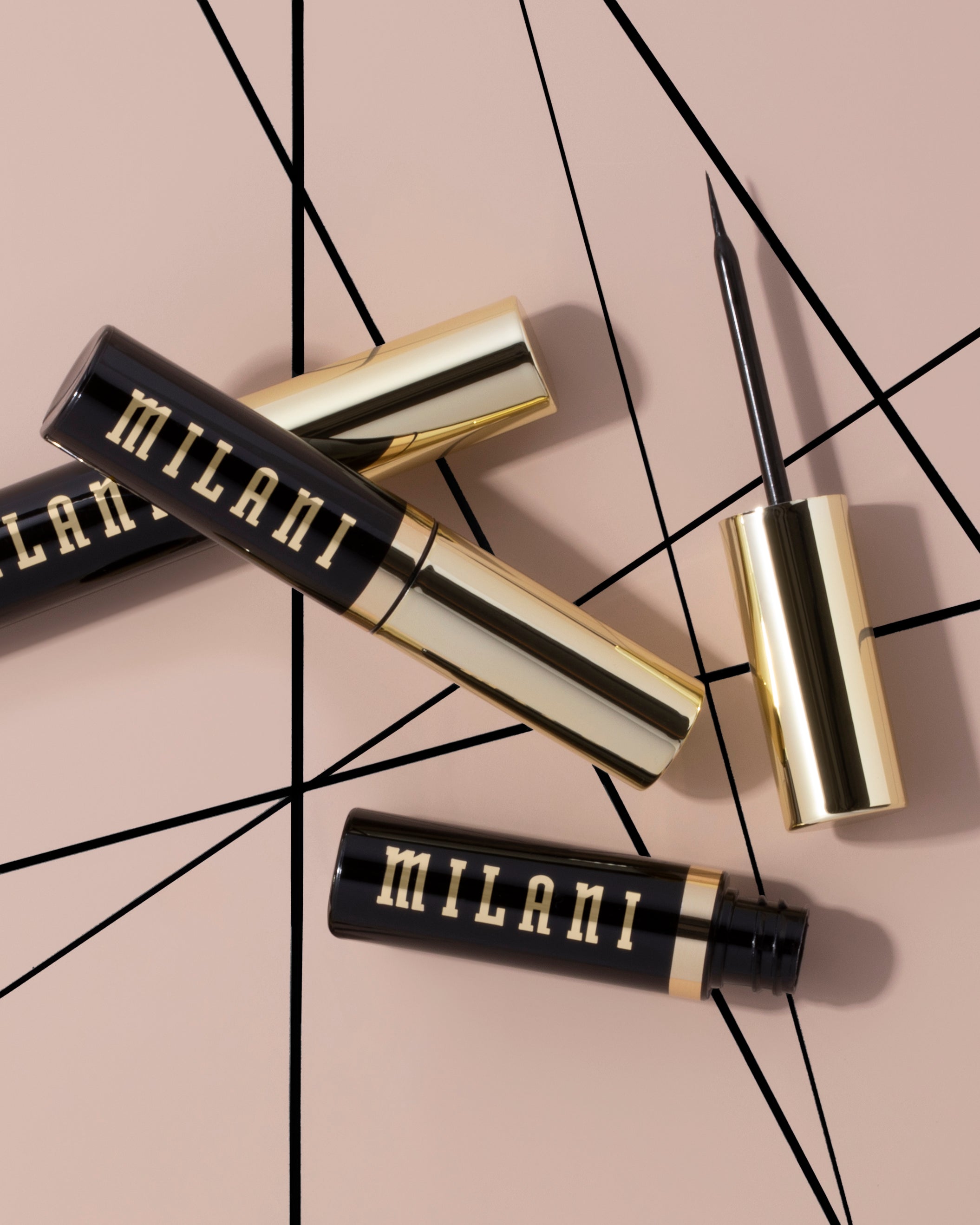 Eye Liner 101 — Best Tips to Applying Eyeliner
Want your eyes to stand out and steal the show? Eyeliner brings out your best features and is available in a variety of colors, formulas and textures to revolutionize your look. Get ready to wow the crowd with this quick how-to guide on finding, applying and rocking the best eyeliner for your gorgeous eyes. Don't be hesitant to try one of the most versatile, hardworking and payoff-rich additions to your cosmetic bag. One look at the evening's selfies, and you'll be glad you took the time to line.
How To Choose the Best Eyeliner
You have a lot of options when it comes to eyeliner, so before getting into eyeliner application techniques, think about the look you'd like to achieve. Some types of eyeliners are best suited for specific finished results, others are beginner-friendly, and still others are best used by eyeliner-applying pros.
Liquid eyeliner.

 Best used for achieving sharp, bold lines, liquid eyeliners require more confidence in application than other types. The crisp lines they provide are excellent for precision but can also go awry more easily if the user is prone to shaky hands.

Pencil eyeliner.

 One of the most forgiving types of eyeliner, pencil eyeliners are perfect for beginners. You can sharpen or soften the pencil's point, depending on the desired finish, making these liners extremely versatile. If you want a very fine line, however, liquid may be a better option.

Kohl eyeliner.

 A must for achieving a red carpet-ready smoky eye, kohl eyeliner has been used in beauty applications throughout history. Its creamy texture can be laid down easily at the waterline for a bold, dramatic look. Kohl can also double as an eye shadow, either by itself or blended in with a favorite shade to darken it. Kohl is best suited for intermediate to expert users, as it can go a little heavy on the smoky look if it isn't carefully applied.
Before You Start  
Getting the most out of your favorite eyeliner does require some prep, but a few simple steps are all you need to achieve perfection. Start by washing your face well with your preferred cleanser and gently patting your skin dry. Then, apply any foundation or eye shadow before your eyeliner, but save putting on your mascara until after your eyeliner is finished.
Get a mirror and good lighting. The larger the surface of the mirror and the brighter your ambient light, the more precisely you'll be able to draw the eyeliner on. While a compact or a car visor mirror will work in a pinch, stick to a bathroom or vanity mirror to best match up efforts on both eyes.

Grab your favorite eyeliner, as well as an eye pencil sharpener, such as our

Duo Sharpener

, if necessary. If you're using one, be sure you're cleaning your sharpener well between uses to keep your eyeliner pencils as hygienic and smudge-free as possible.

Apply cosmetic tape at the edges of your eye to achieve crisp lines, even when your hand is shaky or you're rushing to get ready. That way, if you slip, your makeup still looks like you nailed it on the very first try.
How To Apply Eyeliner
Much like painting your nails, smooth, even strokes are the name of the game when it comes to eyeliner. Ideally, particularly when using liquid and gel liners, apply color in one smooth swoop, keeping your hand moving. Use tape or eyeliner positional guides if you're still working on your freehand skills. Even experts rely on these incredibly handy cosmetic tools to get a gorgeous, smooth eyeliner result. 

Applying eyeliner is an acquired skill that takes practice, so don't get frustrated if you feel like you're struggling. Instead, try applying eyeliner without your other makeup on, practice drawing straight lines on the back of your hand, and don't be afraid to try again. Keep experimenting with a new type of eyeliner saved for an evening when you're not in a hurry to get ready, and don't be afraid to branch out. 
Final Steps + Bonus Hacks
Here are a few extra tips to nail your eyeliner application:
GET 20% OFF YOUR FIRST PURCHASE WHEN YOU SIGN UP FOR OUR EMAIL UPDATES!
BE THE FIRST TO KNOW ABOUT NEW LAUNCHES, PROMOTIONS, AND MORE!